When the HGTV bug bites, it bites hard. As you may or may not know, Tim (my husband) and I have done four "flips" in The Ivy's townhomes in Buckhead over the past several years. In the "olden days", aka the 1990's, we did several renovations in Ashford Park before Ashford Park was quite so swanky. After we priced ourselves out of The Ivy's we graduated to a ranch in Sandy Springs, which was a whole new level of renovation.
A lot has changed in the renovation world in the last 20 years. We used to watch This Old House and Property Brothers and be fascinated with what they could do with a dump. That was the just the beginning. Thanks to that Gaines couple in Waco, Texas and their binge worthy TV show Fixer Uppers (we have seen every episode at least once and I actually went to Mecca/Waco to see the magic first hand) , we now all have heart palpitations over shiplap, barn doors, open shelving, ironwork and all those cute wood signs that have sappy, inspirational messages (of which I own too many). The notion of "staying current" now means that 10 year old renovations are yesterday's fashion.
So back to this ranch in Sandy Springs. It had been loved in a previous life, but it had been a rental for years and was verging on a dump when we bought it. The lot looked like it could be fabulous, but it was hard to tell through the jungle. We looked at it 15 times and Tim thought it was an armpit. I have always loved the ones that hadn't been touched or were really bad. That way you don't feel bad about undoing someone else's work. I called in my real estate reinforcements and we all concurred it had a lot of upside potential. Our contractor partner was more on Tim's side. He just thought it was a money pit and worried that my propensity to blow a budget was going to make this one a loser.
At the end of the day my enthusiasm for the project prevailed, we bought the house and started the permit process. What started out to be a "lipstick flip" with a new kitchen and updated baths quickly turned into ripping out walls and ceilings and making 5 small rooms one big, wide open space with vaulted, beamed ceilings and a ship lap wall (of course). A full master bath addition, brand new secondary baths and an ultra cool basement finish meant that this "flip" had turned into a "labor of love." When a project takes on a life of its own and takes a year to complete, it ceases to be a "flip" and turns into a long term Olympic gymnastics performance.
In full disclosure, kudos to Tim for all the time, energy, love and effort that went into the day to day management of this project. I got to do the fun stuff-pick out appliances, fixtures, tile and finished. He got to deal with the demolition (there were 27 large dumpsters that went out of that place), the drainage and waterproofing, the contractors who didn't show up and the ones who did show up that clogged the toilets.
At one point, we started to get nervous about how much we were putting into the project. At that point, Plan B was that we would just sell our house and move in it. What I didn't realize that that was actually Tim and Jackson's Plan A, and they would be very happy to move in, build a pool and live there happily ever after.
At that moment I realized an emotion that we put our clients through every day-panic. "Oh my goodness, what will we do with all our stuff?, I love our stuff, I have too much stuff, Who has time to clean out our stuff? After the initial panic wore off, I started to get used to the idea. Jackson commented that he "didn't want to live in the same house his whole life." Tim kept creating the picture of a pool and a pool house in the back. I was buying in. We actually had takl.com come move our breakfast room table physically into the house so I could see how it looked. I called the storage unit company (that is expensive) to see what the options were. In the meantime, we kept upgrading the house with things as if we were going to live there.
What we discovered gradually and then quickly was that whatever you thought the price of things was going to be, add at least 20% and most of the time double it. We were still living in previous years' pricing. The real truth became that the price wasn't as important as finding someone to actually do the work. When the economy is booming, demand for talented labor outweighs the supply. And you get what you pay for.
So while it felt like it took forever to finish, the last month of construction made it worth the wait, at least for me. Tim may have been thinking differently as he was actually working on it every day and didn't have the benefit of the excitement of instant gratification once you walked in the front door. Finished cabinets, counters, appliances, fixtures make all the difference. The finished product really turned out to be pretty.
So the plan was to put it on the market, if it didn't sell for the right #, we would put our house on the market and just move in. It didn't end up coming to that. After a week or so on the market, we had 3 offers. The couple who ended up buying it said they had been looking for that house for over a year. The joy and pride of creating something that someone else loves and has been waiting for is really awesome. Selling it feels like sending your child off to college. Wondering what to do with all your extra time and hoping their experience is what you wish for them.
Now-on to the next project!
– Jennifer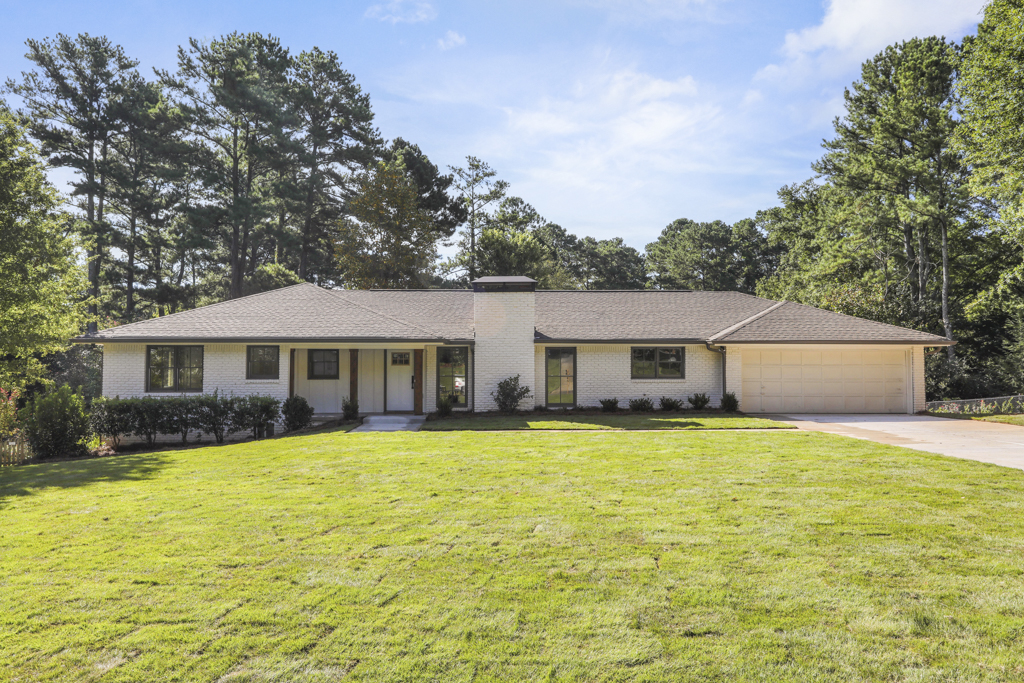 Fully re-done, it's a fresh face for this classic ranch.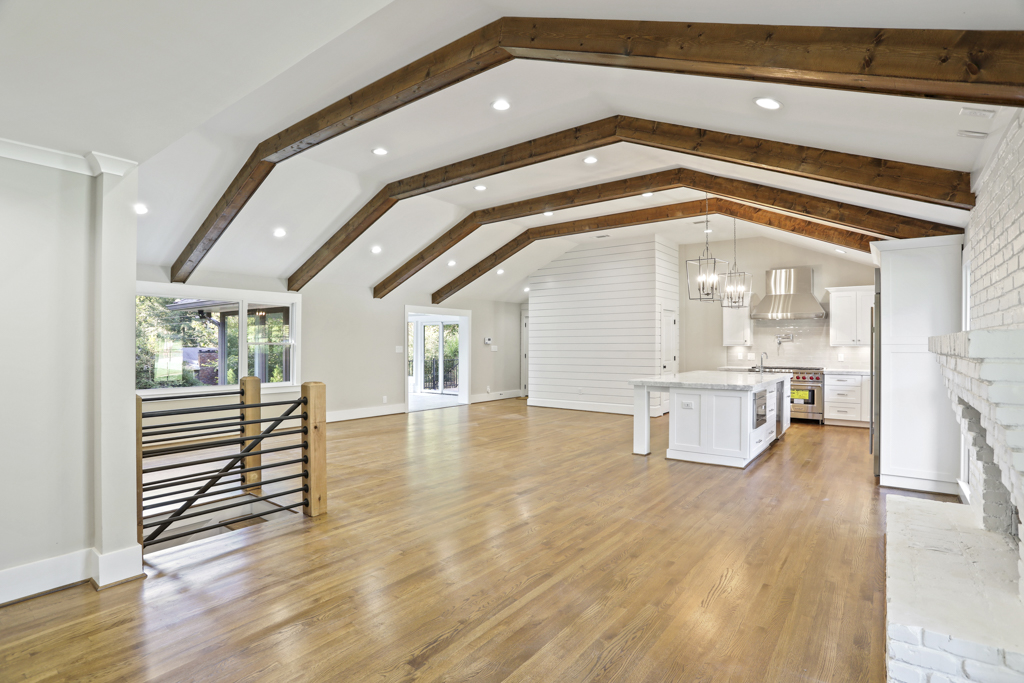 Vaulted, beamed ceiling. Very, very open concept.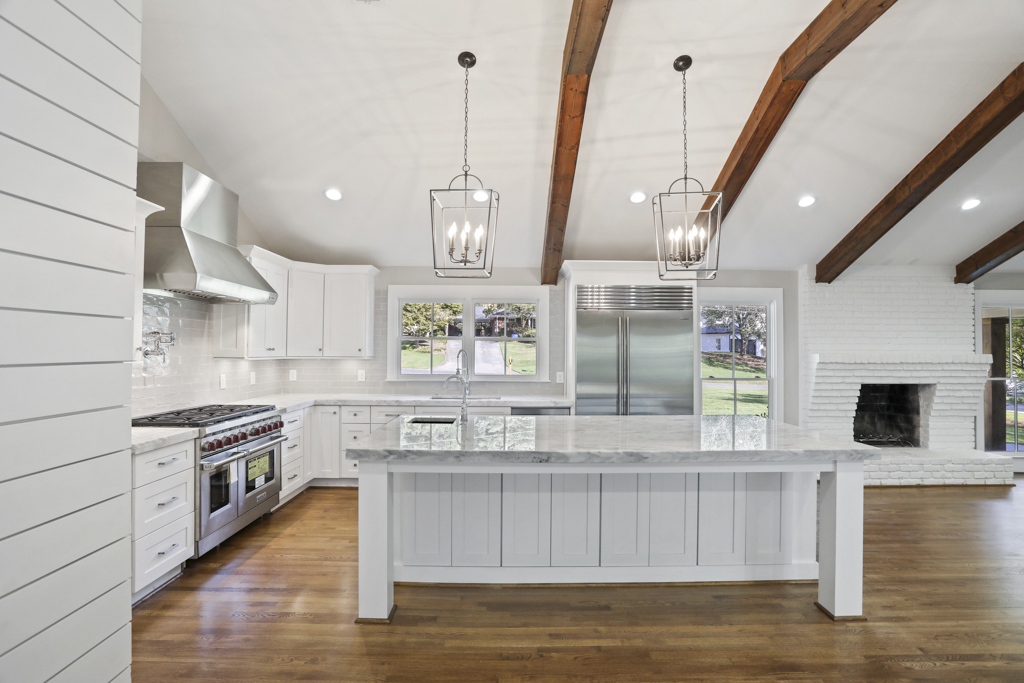 Kitchen with a HUGE marble island. *swoon*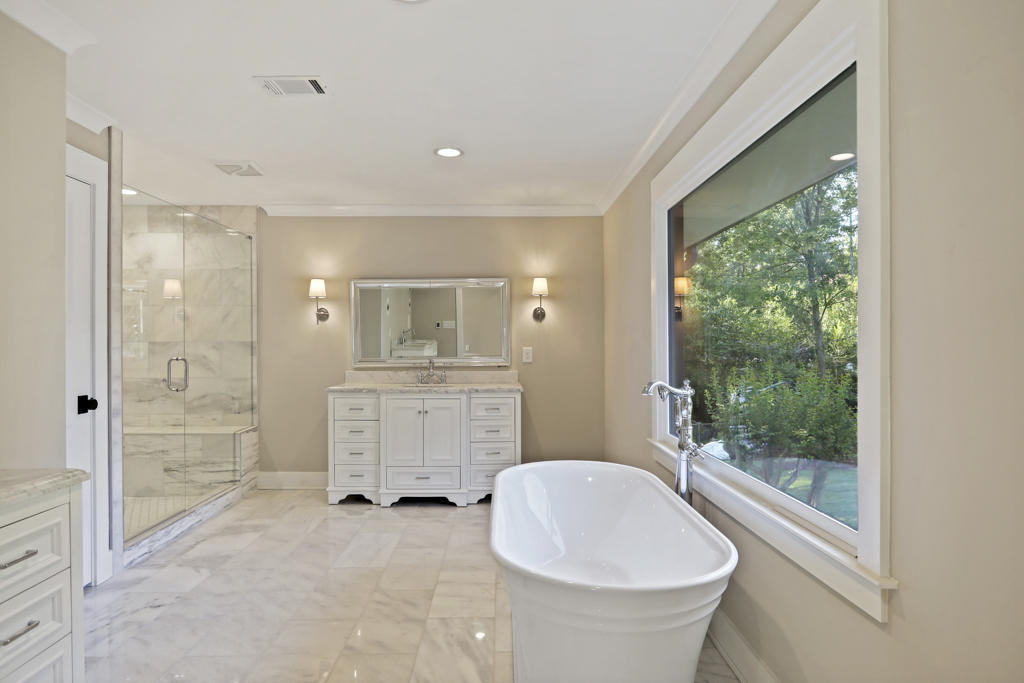 Master retreat with soaker tub overlooking the back yard.