Tis' the Season to Sell Your Home!

Join us for the The Barnes Young Team Home Seller Special – Over $2,000 in Value!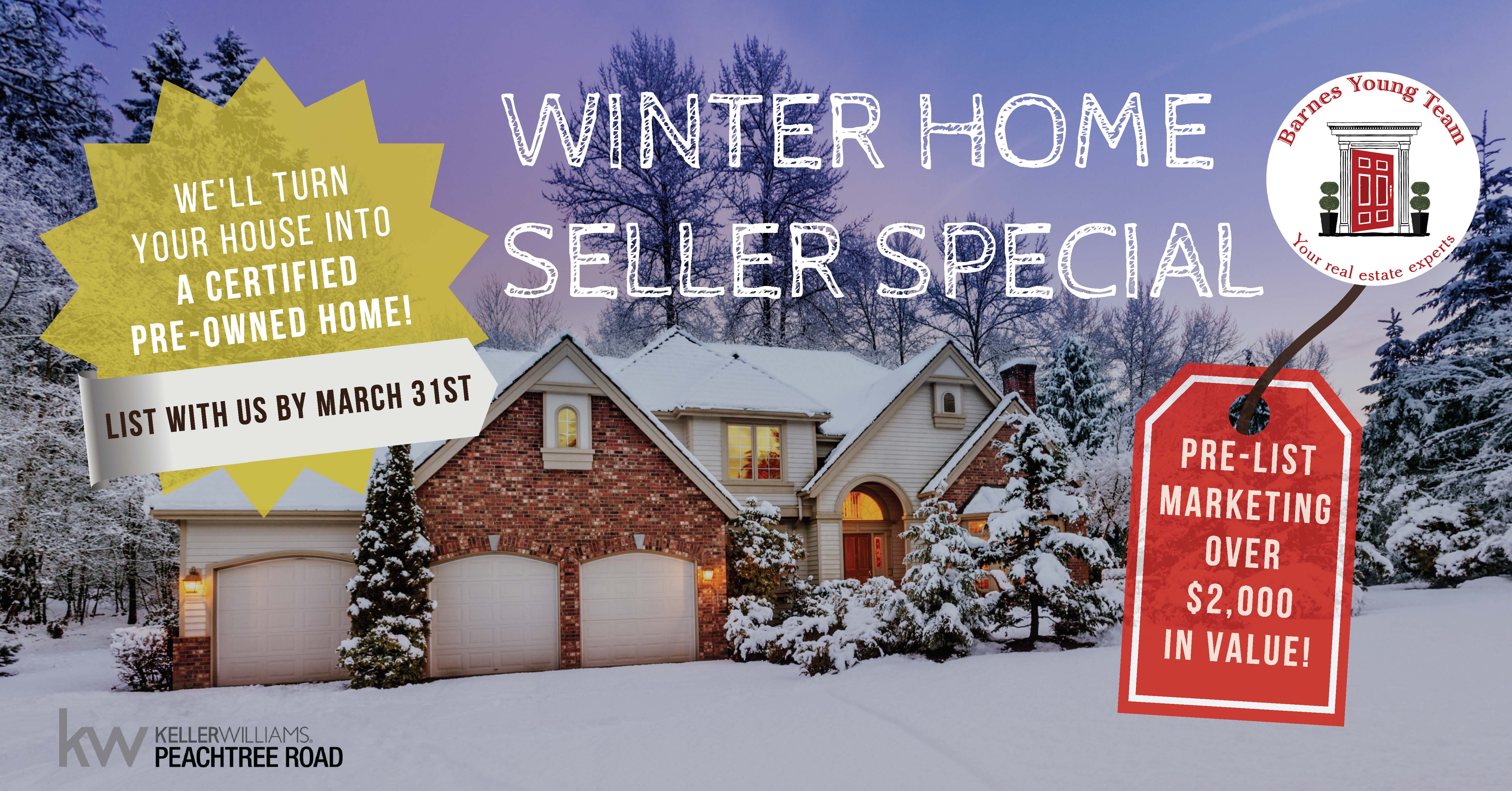 The Barnes Young Team Winter Home Seller Special takes care of some of the upfront costs associated with getting your home ready to sell.

This will allow you to:
Sell your home FASTER

Get MORE MONEY for your property
Have LESS STRESS associated with the process
Achieve SHORTER time on the market and closing periods
In essence, we will help you turn your house into a Certified Pre-Owned Home. By performing inspections in advance, you will check off the big items that may cause contracts to bust.
This will make you:
MORE CONFIDENT that your home will actually close when you get an offer
Give buyers PEACE OF MIND that you have cared for and loved your home
In order to receive this valuable offer, you'll simply sign our listing paperwork by March 31, 2019 and list your home on the market within the 2019 calendar year! Our Winter Home Seller Special allows you to certify your home to buyers while we create a premier marketing campaign. Let's set you up for success in this competitive real estate market and beat everyone else to the spring market!
The Wolek Group will cover the upfront costs of:
Pre-listing Inspections: Structural Engineer, General Home and Termite/Wood Rot Inspections
Appraisal by Licensed Appraiser
1-Hour Staging Consultation
Professional Photography
Social Media Advertising on Facebook, Instagram and YouTube
Strategic Marketing to Neighborhood with Phone Calls, Personally Delivered Flyers and Color Postcards in the Mail
Guidelines:
*Seller to sign a Listing Agreement with The Barnes Young Team by March 31, 2019.
*Property to be listed on the market within the 2019 calendar year.
*Any recommended repairs will be completed or disclosed by the seller, with a price adjustment to offset repairs.
*Seller agrees to provide the Buyer with a 1-year Home Warranty with Seller's Coverage ($525). It is common for Buyers to ask for a warranty, so agreeing to provide one in advance will help them feel good about future repairs. This will be paid by Seller at closing.
Contact us at 404-419-3535 / dawn@barnesyoung.com to list your home today!